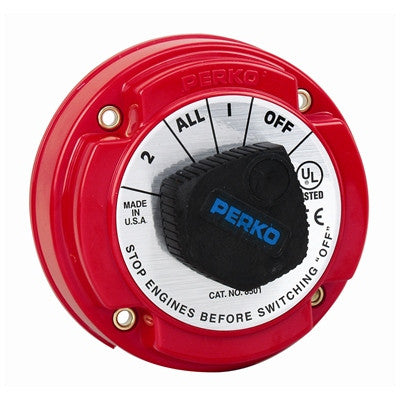 Marpac Battery Selector Disconnect Switch Marine - 70378
Interrupts the field current to protect non-unitized alternators from damage if turned off with the engine running Rated for 250A continuous/360A intermittent, with copper contacts and brass terminals. We strongly recommend field disconnect battery switches (or fail safe diodes) to eliminate the chance of alternator damage due to inadvertent switching. Surface-mount. Marine UL-listed.
-Allows separate and combined battery selection.
-Use as an emergency main disconnect switch in the event of an electrical problem.
-Make before break design.
-Ignition protected.
-Manufactured by PERKO, Inc.
-250 amps continuous, 360 amps intermittent.
-For use with 6, 12, 24, or 32 volt alternator/generator systems. 
*All International Orders may require additional shipping charges depending on location.
---
We Also Recommend
---