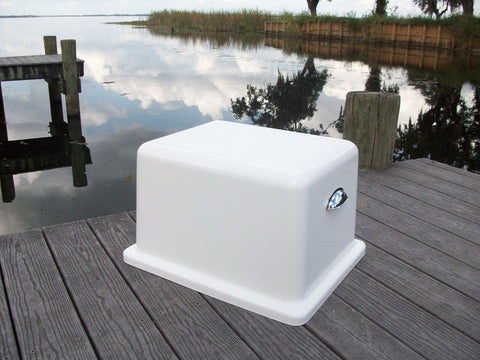 Rough Water Fiberglass Step Box - 13"H X 22"W X 18"D - RWSB01
Rough Water Products  are not your everyday cookie cutter products that you see in many marine stores. They are high end, high quality, yet affordable product that has been missing in the market.
Rough Water Step Boxes Have Sleek Rounded Edges, Built in Non Skid Surface on Top of the Steps, Euro-style Chrome Brass Handles and All Cut and Exposed Edges are Gelcoated
Features:
      22"W x 18"D x 13"H Measurement Includes Flange
      Weight: 13 lbs
- All Rough Water Products Come with a 5 Year Warranty (with CM Marine).
This fiberglass step box is produced by C&M Marine Products and is proudly made in the USA.
*All International Orders may require additional shipping charges depending on location.
---
We Also Recommend
---