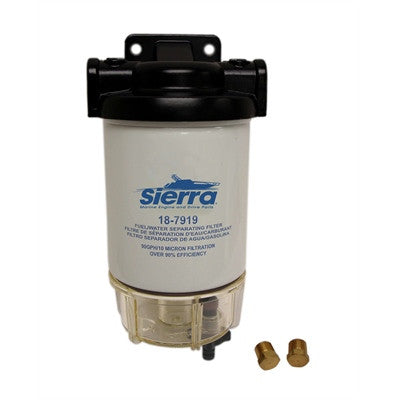 Sierra Fuel/Water Separator Kit 1/4" Replacement Filter w/ AquaVue Bowl - 187928
Product Description/Specifications:  
- Sierra AquaVue and metal collection bowl separator filters allow water to be drained from the filter to extend service life.
- Use the AquaVue collection bowl for outboard, above deck installations.
- USCG Regulation require the use of the flame resistant metal collection bowl below deck.
- Removes 98.8% of emulsified water.
- 10 micron
- Designed and recommended for all 2 & 4-cycle gasoline engines.
- Heavy wall filter canister with epoxy coating improves protection against corrosion.
- Filter materials will not separate 2-cycle oil from gasoline.
- Not recommended for use with diesel fuel or with 1992 Gen II 4.3L and 4.3LX engines with electric fuel pumps using in-line fuel filter OEM #35-80531T
- Replacement Filter w/ AquaVue Bowl - 187928 - Filter head is not included
---
*All International Orders may require additional shipping charges depending on location.
---
We Also Recommend
---