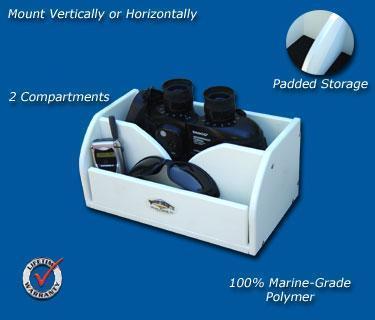 Sunglass Binocular Storage Holder 10 L x 5 W x 6 H -- BL-2
The difference? we've installed a closed cell foam pad in the bottom of both boxes to protect your valuable binoculars from bouncing around. The BL-2 has additional storage for items like cell phones, glasses, sun screen, etc. Four large suction cups are included for horizontal mounting applications or screw mount vertically or horizontally. Measures 10 long, 5" wide, and 6" tall.
Specs:
White
Closed Cell Padded Bottom
100% Marine - Grade Polymer
Suction cups included
---
Quality Product Produced by Deep Blue Marine BL-2
*All International Orders may require additional shipping charges depending on location.
---
We Also Recommend
---